CRM Solution Showdown – Salesforce vs. Microsoft Dynamics 365 CE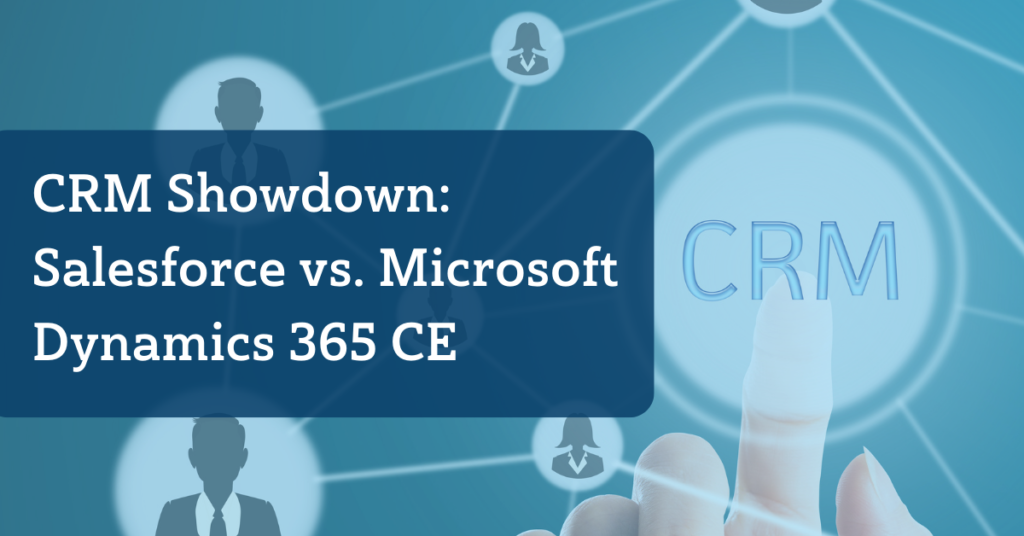 Salesforce and Microsoft Dynamics 365 Customer Engagement (Microsoft Dynamics CE) are two powerhouse CRM software solutions at the top of their games. While the two are very similar in many ways where Salesforce and Microsoft Dynamics CE differ are very significant. Here we compare elements of the solutions' pricing, features, and functionality to help you make the most informed decision for your organization.
An important note before we begin — both Microsoft Dynamics CE and Salesforce are available in multiple versions or editions. For example, Microsoft Dynamics CE has a Professional, Enterprise and Sales Premium edition of Dynamics 365 Sales. Salesforce has Essentials, Professional, Enterprise and Unlimited. Some of the features mentioned in this article and the comparisons made may not be applicable to all versions.
Pricing: The bottom line
The most intuitive way to compare the two would be by price per user. However, since each vendor includes a different set of features in each of its editions, a straight across price per user comparison isn't particularly useful. For example, Microsoft Dynamics CE includes AI capabilities (among others) in its downstream editions that Salesforce charges for. We're not including pricing in this article for just this reason — to be fair you need to make an apples-to-apples comparison which isn't possible without understanding an individual company's needs and goals. Our team can help you perform a detailed cost comparison based on the features and functionality your company needs.
However, to provide a high-level pricing assessment, amongst CRM consultants who are familiar with both CRM software solutions, most agree that Salesforce has a lower entry point than Microsoft Dynamics CE. On the other hand, as a company's needs, level of sophistication and user count grow, Microsoft Dynamics CE quickly turns into the most cost-effective option.
Deployment: At home or in the cloud CRM Software Solution Implementation
Both Microsoft Dynamics CE and Salesforce are available as cloud-based, hosted SaaS applications. However, only Microsoft additionally offers on-premise and hybrid deployment models.
So, if you want to keep your CRM on your in-house server, Microsoft is your best (and only) option.
Ease of Use: It depends
One could say that the best CRM software is the one that gets used. Unfortunately, CRM implementations have historically been plagued with low user adoption rates. And if users aren't using it, the business value of CRM plummets. We know that things like being intuitive and easy to use naturally promote higher user adoption rates. So, which CRM software solutions is easier to use?
Let's start by acknowledging that "ease of use" and "intuitive" are highly subjective terms. What seems intuitive for some isn't for others. But we can work with subjective opinions since they seem to even out with enough input. Here's where G2, the peer-to-peer review site that gathers input directly from those subjective users, can help.
In a head-to-head G2 comparison, Salesforce received an average Ease of Use rating of 7.9 over 10,000+ reviews. Microsoft Dynamics CE received a 7.4 over 1,200+ reviews. This assessment gives the win to Salesforce users. Those using other Microsoft applications praise the benefits of a consistent user interface across the applications.
Integration: Microsoft casts a long shadow
Many companies take the best-of-breed approach to business management software. They find the best financial management application for their operations, the best HRMS, the best business intelligence, the best warehouse management system, and the best CRM. This approach can work exceptionally well — if the applications are integrated. Without integration, companies end up with data silos, little visibility, and plenty of manual workflows to combine the data.
Here's one area where Microsoft Dynamics CE gets the definitive nod. Microsoft Dynamics CE not only integrates with Microsoft Dynamics 365 Business Central, but all the other Microsoft productivity tools companies rely on, including Outlook, Office 365 and OneNote.
Salesforce uses an open API capable of providing integration with many applications, just not the native integrations offered by Microsoft Dynamics CE.
Reporting: All under one roof
This point of comparison is somewhat related to the integration capabilities we talk about above. While both CRM applications provide robust reporting capabilities, the native integration between Microsoft Dynamics CE and the balance of the Microsoft 365 Suite makes it simpler to combine data from different business areas – including any of the Dynamics 365 modules, Office applications, Teams, and more.
Sure, third-party data analysis tools can bridge disparate applications, but there's nothing disparate about Microsoft Dynamics 365's suite of business solutions.
AI: It doesn't take an Einstein
No longer a novelty, Artificial Intelligence (AI) delivers real, strategic value to CRM software solutions. For example, AI can help identify market trends, make sales probability predictions, and recommend next best actions for sales teams. The PwC 2022 AI Business Survey found that 40% of businesses identified as "AI leaders" use AI to improve their companies' customer experience.
Salesforce has Einstein AI, but you'll need to pay more for Einstein while with Microsoft Dynamics CE, AI capabilities are included.
Implementation: Partner for success
While companies that select Salesforce can opt for implementation by Salesforce itself, Microsoft relies on its partner network to implement its CRM software solutions.
As Microsoft partners, we could be forgiven for asserting the value a partner brings to any software implementation. Neither Salesforce nor Microsoft will take the time to thoroughly understand your business and your goals for a CRM application. It's just not in their business models. They sell software. Partners sell solutions.
Service level agreement: Or not
Microsoft Dynamics CE, when hosted in the cloud, comes with a 99.9% uptime guarantee. Salesforce does not come with an uptime guarantee.
Bonus: Teams-work really does make the dream work
Improved collaboration is one of the primary objectives of CRM buyers. Sharing data and resources is simply good for business, and Microsoft Teams serves as a direct communication and collaboration channel in many companies.
Microsoft recently changed its licensing model surrounding Microsoft Teams and CE. The change allows Dynamics 365 users to invite anyone in the organization to view and collaborate on customer records within the flow of a Teams chat or channel. This can now be done without the need for additional CE licenses for those users. As you might have guessed, this is unique to Microsoft and Salesforce doesn't offer anything comparable.
Final thoughts
Microsoft Dynamics 365 CE and Salesforce are both powerful, highly regarded, feature-rich CRM applications. In many instances, either one will serve a company well. Selecting the ideal CRM software solution for your organization involves many considerations, of which price and feature set are the most critical.
Reach out to our team for an assessment of CRM requirements and we can determine if Microsoft Dynamics 365 Customer Engagement is the right solution for your business.