September Digest
This month we are bringing you our latest recommendations! Here's what we're watching, reading, and listening to!
Watch:
Lisa Crosbie's YouTube channel is one you don't want to miss! While all her explainers are great, we want to highlight one that we know will be of interest to our customers – Microsoft Copilot September 2023 Announcements. Lisa expertly breaks down Microsoft Copilot, a feature that Microsoft is calling your "everyday AI companion." Check out the video!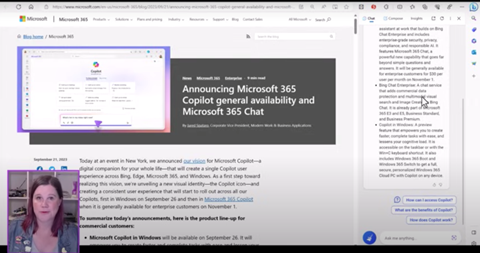 Read:
Theo, an ERP developer, shared this post with us to pass on to our customers about the latest information on what's new and what's planned in Microsoft's Wave 2 Release. To learn more about Power Apps embedded into Business Central or an improved reporting and dashboard system, visit: What's new and planned for Dynamics 365 Business Central.
Listen:
Microsoft MVP Steve Mordue has an informative and fun to follow podcast called "Steve Reads his Blog." We want to point out his latest podcast series "Sally in HR has a business problem." This seven-part series details the journey of Sally, stuck using spreadsheets for all new hires, and how she works to solve it using the Power Platform. You can listen to all seven episodes here: Sally in HR has a Business Problem.
To talk to one of our experts on how Microsoft business solutions could be right for you, get in touch!