Plan your Move to Dynamics 365 BC: Free Migration Assessment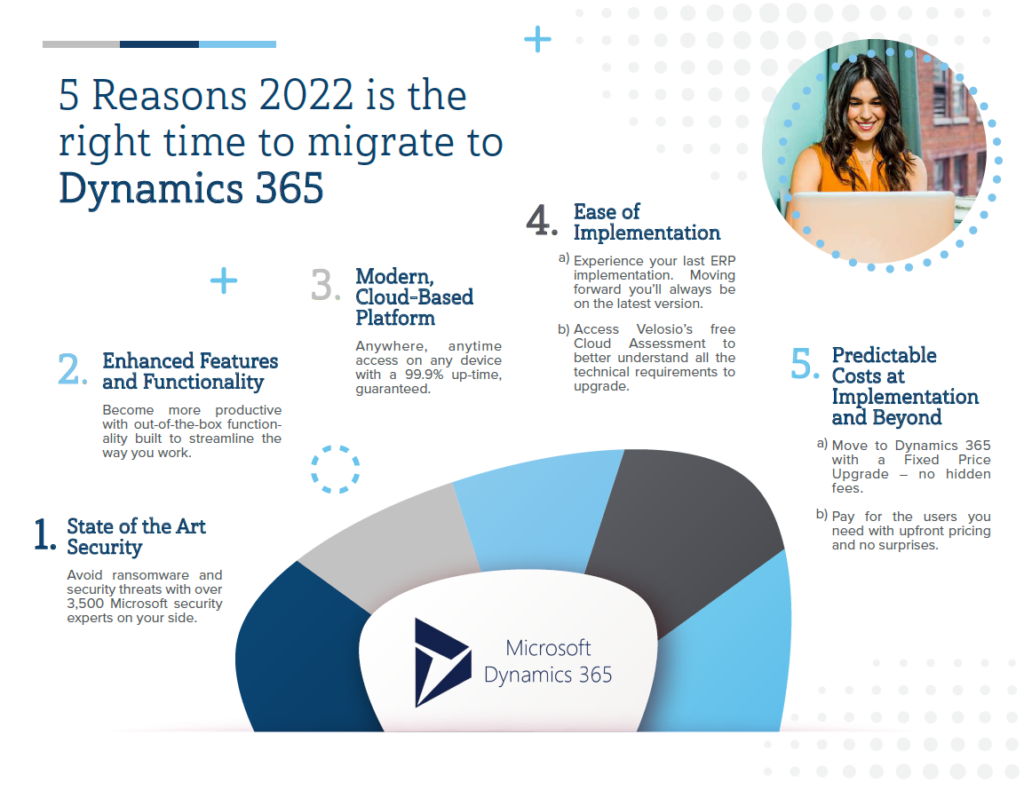 Your Dynamics GP solution has helped you manage and grow your business, but technology and customer needs are changing. Moving to Dynamics 365 Business Central (BC) in the cloud can ensure you are using a modern and always up-to-date solution without the hassle and cost of upgrades and maintenance.
With Dynamics 365 BC you can:
Be ready for current and future business challenges, including hybrid work, supply chain disruption, labor shortages, and security threats. You'll always have the latest technology, kept up to date for you.
Gain long term ROI by eliminating the upgrades, hardware, and downtime incurred with existing on-premises systems.
Improve productivity and collaboration by simplifying access to information through embedded integration with Microsoft 365 and Teams.
Optimize business performance with comprehensive reporting, AI, and predictive analytics. Identify potential issues before they happen and make better decisions to increase sales, improve service, and drive profitability and growth.
Get started with a free assessment
Let us help you analyze your current Dynamics GP environment, identify migration barriers, and begin to build your plan to move to Dynamics 365 BC with a free migration assessment.
The assessment tool takes less than five minutes on average to analyze your existing environment and generate your personalized report which includes:
A summary of the modules, features, and ISV solutions in use. Confirmation of product version, data consumption, and other industry specific requirements.
An assessment of your readiness to move to BC.
Guidance on next steps including scope of implementation and proposed migration plan.
Contact us today to schedule your free assessment.
Frequently Asked Questions
1. Is the migration assessment free or are there any licensing requirements?
The migration assessment is available at no cost, and it does not require licensing. Contact us for access to the tool.
2. Do I need to purchase a Dynamics BC license in order to run the assessment tool?
No, you do not need a BC license to run the tool.
3. Will the assessment work on any version of Microsoft Dynamics GP?
Yes, the assessment will work on any version of Dynamics GP and Microsoft SQL Server.
4. Will the assessment tool run on any device?
You can run the tool from any computer with a connection to the SQL server running the GP database. However, you need an internet connection to upload the results. To browse the Dynamics file set more easily, we recommend running the tool on a PC that also runs the Dynamic GP client.
5. How long does it take to complete the assessment?
On average, the tool will complete its assessment in less than five minutes.
6. Does using the assessment tool require users to log out of GP?
No, users can continue to work as usual in GP while running the tool.
7. Will the tool change any data in my GP system?
No, the assessment tool only READs and collects metadata from your GP SQL Server database.
8, How long does it take to get my report after I run the assessment?
You will receive an email the same day with a link to your report.
9. What happens after I get the report?
Share the report with your partner and schedule time to further assess your migration readiness.
10. What is your data security and privacy policy?
We analyze anonymous metadata such as the name and version of your solutions, number of customers and vendors in your system, and the number of transactions and modules used in your ERP. We do NOT analyze or collect your financial or customer data.
11. After the assessment is complete, what happens to our data?
The migration assessment tool is designed and managed to help you take the next step in digital transformation. The metadata collected from your system will be stored to help understand trends and improve the GP Cloud Migration tool.