MS Access Dataverse Connector
As of May 2022, Microsoft 365 and Office customers that are using MS Access database apps now have a new tool to help them migrate their MS access apps to the cloud.
There are a lot of enterprise applications out there still running on Microsoft Access.  Many users developed sophisticated bespoke applications that run on Microsoft Access. These are critical to their department or even entire business. This approach became popular in large organizations to address gaps in business processes left by big ERP systems. The approach is also very popular in smaller organizations that did not have any enterprise or line of business applications to meet specific needs. These business users developed their MS Access database apps incrementally and iteratively by polishing up the app as they uncovered more about their requirements. Most Access developers are not professional programmers but self-taught enthusiasts and power users. They learned to build their database apps on MS Access making it the original Low Code No Code environment that some consider LCNC version 1.0.
While many organizations' digital transformation strategies focused initially on getting their email and collaboration platforms in the cloud, critical business apps running on MS Access have frequently been left behind as they usually present challenges with new development environments, development budgets, or even insight/clarity on what is the best strategy to get you into the cloud – not anymore.
Customers on the current channel for Microsoft 365 and Office now can update their Microsoft Access and take advantage of the Access Connector for Dataverse and Power Platform.
Here is what MS Access Connector can do
| | |
| --- | --- |
| Migrate your data directly into Dataverse | Save time migrating to the cloud (migrations can take minutes vs hours and days) |
| | |
| Import from Dataverse to MS Access | Load a copy of a Dataverse application data into MS Access for offline use |
| | |
| Link to MS Access | Can use existing MS Access forms AND PowerApps on same data at the same time |
MS Access Dataverse Connector capability enables…
Hybrid solutions

Maintain the value and "ease of use" of MS Access with the value of cloud-based storage

Mobile and MS Teams Front-end Capabilities

Realtime sharing and editing data simultaneously using front end apps in Access, PowerApps, and MS Teams

New security and compliance through Dataverse cloud storage using AAD and role-based security

Other Core Power Platform capabilities

Customer facing virtual agents
IT People Love it as it gives them…
Compliance in a few clicks
A solution for data leakage

Cloud client synchronization across different front ends

More robust security on the data
Business Owners & Managers Love it as it gives them…
Fast inexpensive way of migrating their MS Access applications to the cloud
Way of preserving the ease of use and existing investment in MS Access solutions
A way to extend their MS Access and take advantage of the Power Platform and all of its capabilities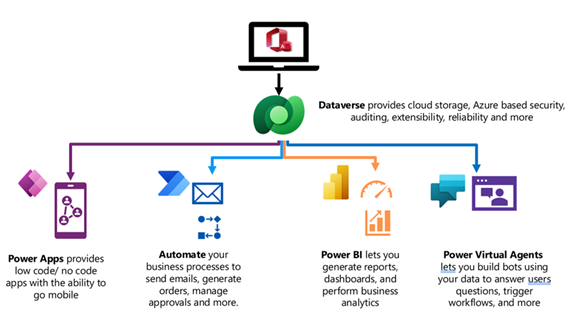 This Access connector will enable you to bring your data into the cloud, which will unlock the capabilities of better data management, security, advanced reporting, and automation.
If you are interested in moving your access to the cloud, please reach out to our experts today!