Add Intelligence to your Applications and Workflows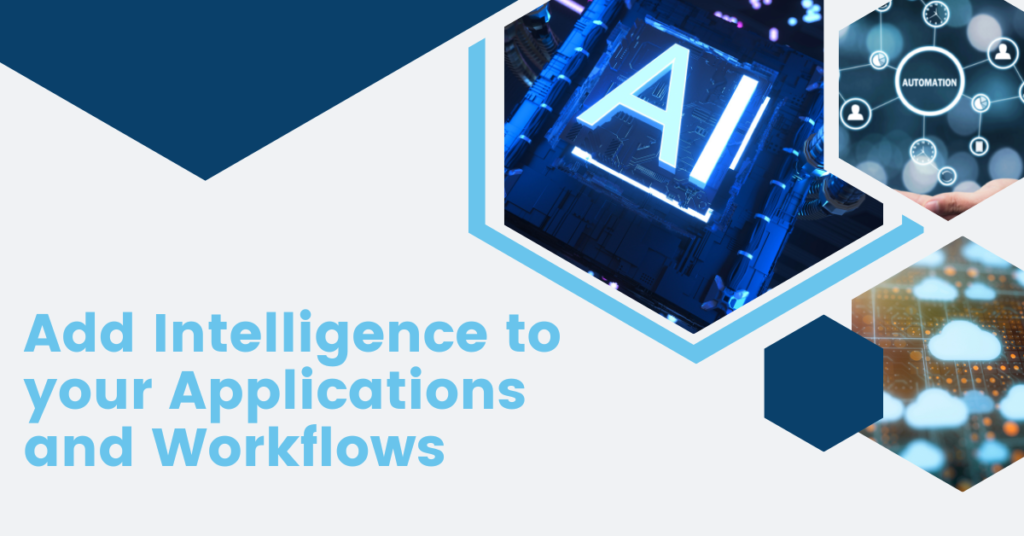 Directly integrated into Power Apps and Power Automate, AI Builder brings the power of Microsoft AI through a point-and-click experience and enables teams to easily automate processes and predict outcomes to improve business performance.
Make AI Intuitive
Easily build, train, and publish AI models without writing a single line of code, using templates and a guided process, or quickly embed prebuilt components directly into your apps.
Quickly simplify tasks using AI models such as prediction, form processing, object detection, category classification, and entity extraction via a simple, intuitive interface.
Get straight to productivity with prebuilt AI scenarios including key phrase extraction, language detection, sentiment analysis, text recognition (OCR), business card reader, entity extraction, receipt processing, and category classification.
Automate your Apps and Workflows
Use AI Builder components to quickly extract text and visual information using your camera or from available images and documents. Focus on high-value work by automating your time-consuming manual processes with AI Builder and UI flows, a robotic process automation (RPA) capability of Power Automate.
Organizations can break down barriers to automate legacy software with RPA in Power Automate able to mimic user interactions on-screen and across systems. This improves efficiency while reducing the potential for errors, and gives time back to your employees for more high-value work.
Gain Value from All of your Data
Built on the strength of Azure AI capabilities, AI Builder allows you to train and build no-code models. It also enhance the intelligence of your business apps using your data in Dynamics 365, Microsoft 365, and Common Data Service.
Reach out to us today to connect to a Power Platform architect that can help you get started with intelligent automation for create better customer or employee experiences and improve data capture and management.