Viva Sales: Connect, Collaborate, and Engage with the latest sales AI
Microsoft Viva Sales is a "seller experience application" that works with Microsoft 365 applications (like Dynamics and Outlook) and Microsoft Teams. It automatically captures, access, and register data into any CRM system, eliminating the administrative burden of manual data entry and giving sellers more time to focus on selling. With the power of AI, Viva Sales enriches data sets with customer engagement data, allowing sellers to "cut the forms, connect the data, and close the deal". Viva Sales is taking this tech and bringing it all together and packaged at a very attractive price point.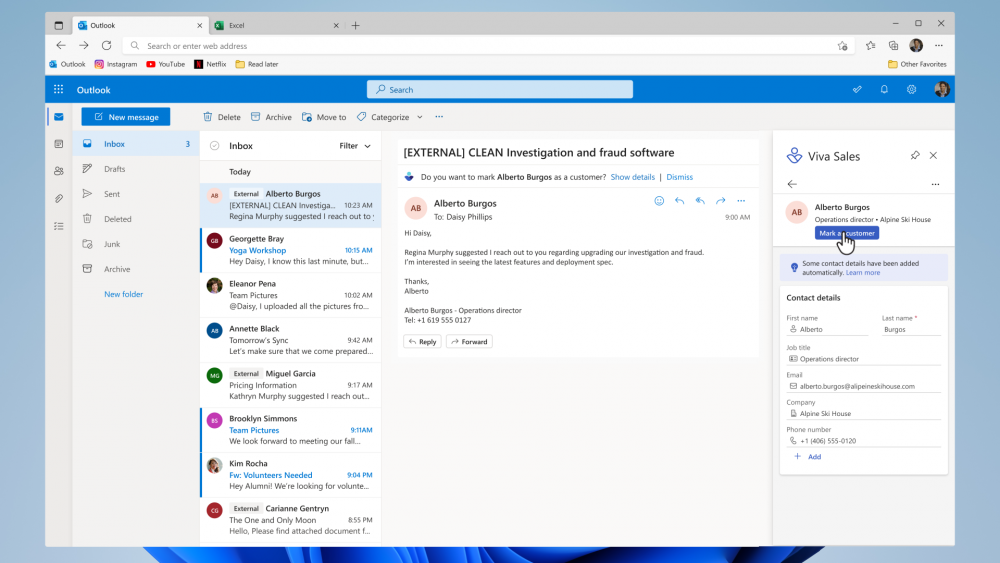 Connect
Eliminate busy work by automatically linking your CRM tool to your Office suite. Viva Sales supports real-time editing so that your CRM stays up to date. As you make changes to contacts and interactions – all within your workflow. Its connectivity with the Microsoft ecosystem reduces app switching to minimize frustrations and maximize productivity by having everything in one place.
Viva Sales will appear as a sidebar right in Outlook and will display and sync CRM data from Outlook to Salesforce and Dynamics 365. New contacts, accounts and opportunity information is available in Outlook for quicker response time to buyers. To log all interactions, emails can be saved to CRM system directly without leaving Outlook.
Collaborate
Collaboration and intelligent insight features in Viva Sales operate in Teams, too. CRM customer information can be updated from Teams chats and shared with colleagues across applications. Using familiar features, like @mention, makes it easier to send customer details. This helps keep colleagues up to date while furthering customer relationship. You can use word or phrase search capabilities to find a piece of a conversation during a sales meeting that can be critical to closing the deal.
Engage
AI-powered insights in Teams help create more impactful customer meetings. Viva Sales records calls, then using Conversation Intelligence performs a sentiment analysis of the call, indicating positive and negative portions of the meeting. This AI also recommends data to be added to your CRM with one click, such as follow-up tasks that were mentioned during the call. Sellers can also make use of other meeting insights such as a detailed executive summary from the call transcripts. All of these engagement features save you time from notetaking and follow up and allowing you to keep your focus on the customer.
Microsoft Viva Sales went live at the beginning of October, and it is free for Dynamics Sales Enterprise and Dynamics Sales Premium licenses. For others looking to add this app to their Microsoft services, you can add it to your licensing for $51.20 CAD user/month. If you want more information on how Viva Sales can help you focus on selling, reach out here.