5 Reasons Businesses Replace Salesforce with Microsoft Dynamics 365 CE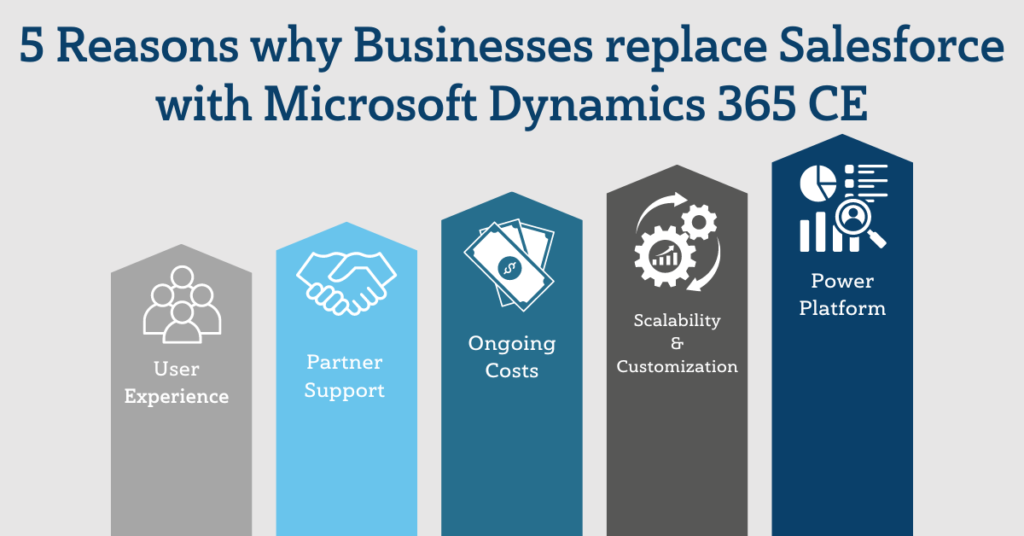 If you're still evaluating the available CRM options – check out our other article – Why Choose Microsoft Dynamics 365 CE over the Competition, but if you're a current Salesforce user contemplating to replace, just know you're not alone.
Companies across industries are making the change after discovering that although Salesforce is a powerful CRM application, it isn't as user-friendly, supportable, low-cost, and extensible as they hoped. In our experience we've found that Microsoft Dynamics 365 CE makes an ideal replacement for Salesforce.
Here are our top five reasons why businesses are making the switch.
1. Superior User Experience
Switching software can be disruptive as users must learn to perform their tasks in the new application. Companies often find disruption minimized when they switch to Microsoft Dynamics 365 CE thanks to the solution's familiar user interface. Employees already working in Excel, Word, or Outlook will recognize the similarities and feel right at home. Reducing the learning curve speeds user adoption rates and accelerates the return on investment.
Microsoft places solid emphasis on the user experience, with intuitive navigation that minimizes the number of clicks, automated workflows that simplify complex tasks. By setting up notifications and reminders that prompt users with next steps. With that said, Microsoft Dynamics 365 CE is a comprehensive CRM application with extensive functionality. So, investing in user training can further speed adoption rates and create confident, productive users.
2. Personalized Partner Support
Has your experience with Salesforce customer service been impersonal, time consuming, and/or frustrating? Salesforces users go through Salesforce for most support services. You know the drill: call into the 800 number, wait in the queue, and get the next available technician. Then you'll need to explain not only your current challenge but who you are, and how your company uses Salesforce. It can be challenging, especially for busy companies who rely on their CRM to keep business moving.
In contrast, when it comes to Microsoft Dynamics 365 CE, you'll work closely with an authorized partner, who understands your business, your goals, and how your system is configured. Organizations who have chosen Microsoft Dynamics 365 CE to replace Salesforce often cite this as one of the most tangible benefits of the making the switch.
A partner familiar with your implementation can more quickly help you if issues arise. In addition, a partner will take the time to explain to your users why the issue happened and how to resolve it — and avoid it going forward. Finally, a partner understands how to optimize the processes you currently have in place to make your system even better and your people more productive.
3. Predictable Ongoing Costs
There are few things as aggravating as thinking you know what you'll pay for product licensing only to have the costs jump up unpredictably after only a year or two. Perhaps this is the main reason your company is considering a replacement for Salesforce. Or maybe the vendor led you to believe that certain functionality was included in your fees. Then you discover you'd have to pay for a more expensive plan to get that functionality.
If so, you'll appreciate Microsoft's transparent approach to licensing and product functionality. Microsoft's predictable, stable pricing shields you from erratic cost fluctuations and helps you budget ongoing expenses more accurately.
It's not only the initial licensing costs and confusing promises that can cause Salesforce users to jump ship. Another common gripe from customers switching is that the vendor charges a premium to integrate with many third-party applications. In contrast, Microsoft is transparent about fees and functionality for Microsoft Dynamics 365 CE. You'll know upfront what you'll pay and what functionality you'll get for that price.
4. Agility, Scalability and Customizability
If the past few years have taught businesses anything, it's that agility is a superpower. Some companies were forced to furlough employees. Others had to increase staff to meet overwhelming demand for products or services.
Maybe your business model changed due to the pandemic, changes that required you to capture additional data in your CRM, adjust your workflows, or integrate with a third-party application. Unfortunately, achieving this agility can be costly and convoluted enough to cause some to look for a replacement for Salesforce.
Microsoft Dynamics 365 CE is much more accommodating to customers that need to increase or decrease their user license count. As we mention in #3 above, licensing is transparent and flexible, and the core solution includes functionality that Salesforce charges extra for. In addition, Microsoft Dynamics 365 CE is a fully customizable CRM solution that allows you to tailor the core solution to ensure it continues to meet the needs of a dynamic operation.
Finally, Microsoft Dynamics 365 CE uses universal web standards such as HTML, .Net, and Java — familiar tools to most developers. Things aren't so simple with Salesforce, which uses a proprietary programming language that can make customizations expensive and time consuming.
5. The Microsoft Power Platform
Salesforce – for the moment – has a larger share of the CRM market than does Microsoft Dynamics 365 CE, but Dynamics' market share is growing rapidly. Many companies looking to use Microsoft Dynamics 365 CE as a replacement for Salesforce cite the Power Platform as a big motivating factor behind the switch.
It's hard to overestimate the value of the Microsoft Power Platform. It's a collection of low-code/no-code business tools that enable organizations to build end-to-end solutions and provides unparalleled impact.
Microsoft Dynamics 365 CE also easily integrates with the Microsoft 365, Dynamics 365 Finance, Teams, Power BI, SharePoint, and more. Other popular integrations out of the hundreds available include Google Calendar, Dropbox, and Slack.
Take the Next Step
For many companies, Microsoft Dynamics 365 CE is an ideal replacement for Salesforce. If you are looking for a deeper comparison of Salesforce to Microsoft Dynamics 365 CE to help in your decision making, check out Leading CRM Solutions Showdown – Salesforce vs. Microsoft Dynamics 365 CE. Our team is also here to help so reach out if you'd like to speak with one of our CRM specialists.