ITRAK 365: QHSE Solution for Dynamics365
What is ITRAK 365? 
ITRAK 365 is a software solution which manages all components of Quality, Health, Safety, and Environment (QHSE) processes. By leveraging Microsoft's cloud technologies (Dynamics 365, Azure, and Microsoft Teams), ITRAK 365 brings efficiency, convenience, and data insights to your health and safety team.  
Why do I need ITRAK 365? 
ITRAK 365's QHSE management along with training and competency tracking is key for understanding risks and hazards in your organization, and ensuring quick, consistent access to training. It is a collection of tools developed to keep your employees safe! 
"ITRAK empowers your stakeholders to monitor the health of your business in the field and make insightful data-backed decisions."

From Itrak365.com
ITRAK 365 focuses on a variety of industries whose safety operations are top of mind each day. These include mining, construction, utilities, forestry, and manufacturing. In industries with agents in the field, ITRAK 365 helps by having the capabilities to complete electronic forms, inspections and audits all remotely. ITRAK integrates natively with Microsoft Teams to make the safety review and approval process seamless. Letting you collaborate in real time, optimizing approvals, and make system adjustments instant keepings all team members in the loop.
What can it track?
Most companies will not need all the features ITRAK offers initially. You can start with one or two workloads and grow into the others as your team needs them. Of the list below, which would you start with for an initial Launch Project?
Audits & inspections
Hazard identification
Risk assessment
Incident tracking
Skills & training
Field based assessments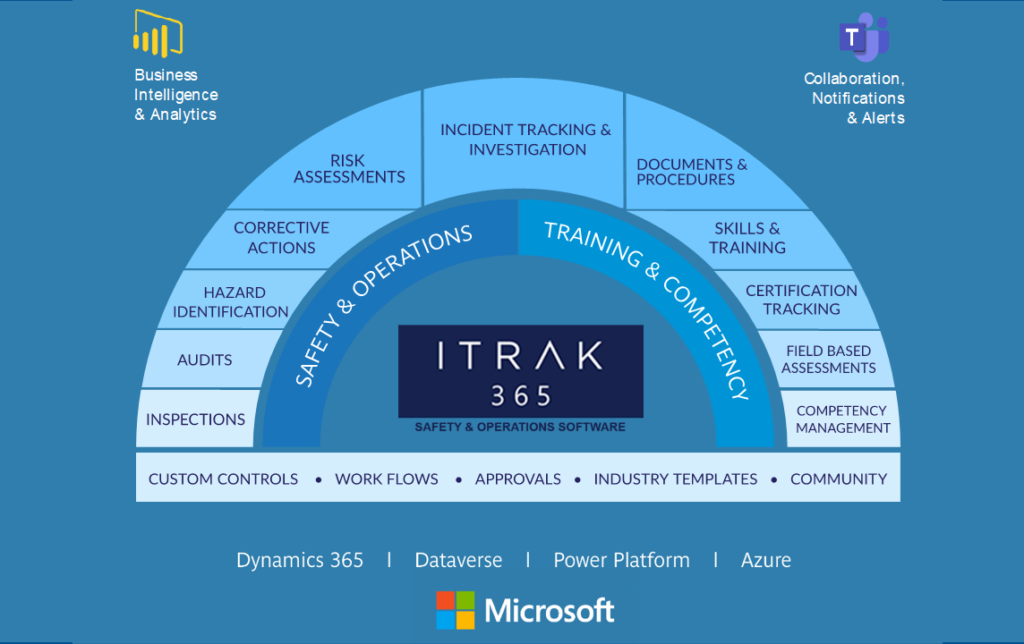 With industry templates and custom controls built in, you can get ITRAK up and running before layering on other aspects to streamline your workflows. Alongside quick deploying templates, ITRAK is certified compliance with several global safety organizations to ensure that you are building out your QHSE processes on a standards based platform to guarantee the highest level of safety within your team.  
How can we help?
If you're interested in learning more about how ITRAK 365 can integrate with your existing Microsoft products, reach out to us!