Sequencing: Consistency & Standard Processing
A sales sequence is a series of different points in the sales process designed to be repeatedly delivered while working with a lead or contact. Sequences allow sales teams to automate prospecting leads and staying in touch with contacts. A sequence can include email campaigns, phone calls, or other sales-related tasks. The key to sequences is that it provides a process for the sales team to follow. This increases productivity through following this prescriptive design.
What are Sequences?
Sequences help sales managers follow best practices. Introducing a set of consecutive activities for sellers to follow during their workday. A sales manager can connect sequences to leads and opportunities. Which can appear in a seller's work queue to help sellers prioritize activities. This allows the sales staff to focus their time on selling and ensuring alignment to business processes, instead of making high-level decisions about what to do next.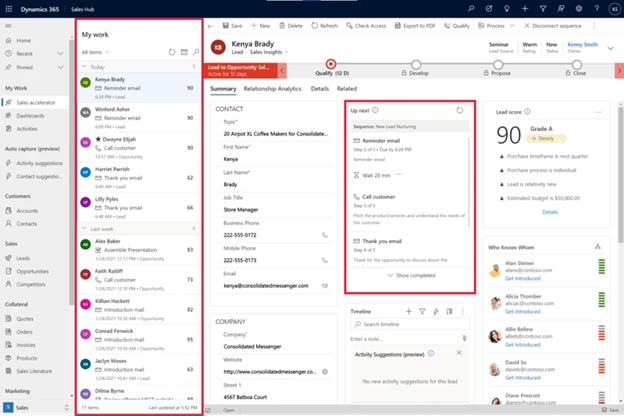 Why should I use Sequences?
Every successful sales team meets their targets by operating from a repeatable sales process, set up with sequencing. Sequencing allows the company to set up the sales process. These process can be applied by all team members whichever deal they are pursuing, resulting in more consistent outcomes. If you're not using sequencing in your day-to-day, your team may be spending excess time deciding on the next steps and manually communicating with the customer, rather than using the automation tools that are available to you.
What could you set up with the sequences (Activities)?
Still not sure if Sequencing is right for you? Examples of what can be set up with Sequences are:
Set wait times: For those moments when your sales staff aren't sure if they should contact the client, Set Wait Times specifies the time interval between activities. This can help clients feel supported but not bombarded with the sales process.
Automated emails: These can be set up to communicate with customers without manual seller action. Emails are automatically sent to the customer based on the selected template relevant to their sales process. For example, to book a follow up meeting or to fill out a form.
A phone call: If it's time to follow up in a call after a certain point in the sales process, a phone call activity can be scheduled to take the process to the next level. For instance, when sellers select the icon, a softphone appears on the app to dial the customer, from right inside your PC with an app like Microsoft Teams.
What are the prerequisites?
All you need to be able to use Sequencing in Microsoft Dynamics is a Sales Insights license or a Dynamics 365 Sales Premium license. If you have this license, your user must have a Sequence Manager, Sales Manager, or Administrator role in the system to set up and monitor your sequencing.
Want to know more?
Interested in learning how to use Sequencing with Dynamics 365 Sales? Feel free to contact us!